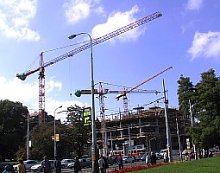 Sale of Liebherr Tower Cranes
Kranimex Ltd., as an exclusive representative of the Liebherr company for the Czech and Slovak Republic, provides sale and service of Liebherr tower cranes. The offer of the German crane manufacturer represents an integrated production program. Its wide supply of systems, application of up-to-date technology, high quality and reliability will meet requirements even of the most exacting customer.
Offer of Liebherr tower crane systems:
H, TT, TTR, K, KR, MK series of Liebherr fast-erecting cranes
EC, EC-B series of Liebherr classical building tower cranes
HC, HC-L and DR (Derrick) series of Liebherr special cranes
Kranimex s. r. o. provides sale of new or second-handed tower cranes, including all consequent services:
Advisory and consultancy activities during the process of identifying the appropriate tower crane models suitable for particular construction projects
Training services for technicians and operating staff
Kranimex also offers leasing of the Liebherr tower cranes out of hire office, including their assembly, dismantling and crane-work supplies.