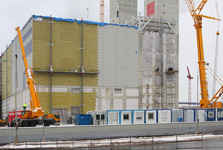 Mastclimbing work platforms on the building site of the power station in Ledvice
Apart from 6 pieces of Liebherr tower cranes that were placed there by the Kranimex company in cooperation with Metrostav company, the HEK MSM Super platforms are used here as well.
Rental and assembling of this platforms is one of the Kranimex company's activity. In this case two pieces of the platforms are used by the Hochtief company, that is building here the facade of the engine room. Platforms are 40 m high and their lenght can be adjusted up to 32 m according to the requirments of our customers.