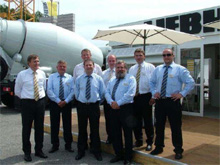 16th International Engineering Trade Fair Nitra 2009
Kranimex Ltd - exclusive representative of company Liebherr - Werk Biberach and Liebherr - Bad Schussenried for the Slovak market in the fields of building tower cranes and concrete mixing technology, has participated in this year 16th International Engineering Trade Fair in Nitra (19.-22.05.2009).
Our invited quests and business partners had been welcomed in the Liebherr exhibition area among the Liebherr exhibits, where we have presented fasterecting Liebherr 71 K, flat top Liebherr 50 EC – B crane and truckmixer LTM 904.
Despite current global economic situation, Kranimex is successfully implement its active business policy to approach potential customers and maintain existing business partnerships on the above standard level.