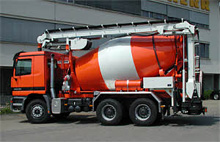 LTB, the truck-mixer conveyor
Satisfied customers all over the world.
The LTB conveyor belt is the most cost-effective solution for transporting materials such as concrete, sand, crushed stones or pebbles from the truck mixer into the building site. Transport from the concrete plant to the building site must be realised quickly and costeffectively. The supplementation of an LTB conveyor belt to the truck mixer therefore, is invaluable. This accessory is regarded by the customers as an additional service bonus.
Available versions.
Conveyor
12 GL
12+4 GL
12+4+1 GL
Belt drum centres
11,5 m
15,2 m
16,2 m
Discharge rate
70m3/h
70m3/h
70m3/h
Belt speed
3,5 m/s
3,5 m/s
3,5 m/s
Weight
cca 1 980 kg
cca 2 950 kg
cca 3 020 kg
LTB 12+4 GL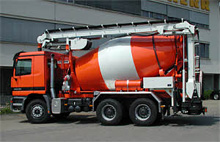 LTB 12+4 GL (4m telescope)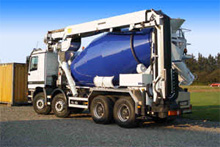 LTB 12+4+1 GL (double telescope 4m a 1m)