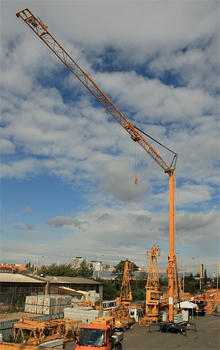 LIEBHERR 22 HM Presentation
Demonstration of Liebherr 22 HM arranged by Kranimex Ltd. and LSC Brno took part at 10 places in the Czech Republic in the time between September 29th and October 10th 2008.
The photos are from the presentation in Kranimex premises in Strašnice , Prague 10 on October 2nd 2008. About 40 customers took part in subject presentation.
Hydraulics make handling of the mobile fast-erecting cranes of the HM series simple. With the hydraulic erecting kinematics, erecting of the HM cranes is very easy, fast and safe and can be carried out by a single person.
HM cranes feature the practical 160° obstruction-avoidance angle and the 20° raised-jib working angle. The 22 HM also has a 40° super-raised working angle.
The HM series offers the advantages of the H crane system and has integrated transport axles for maximum mobility up to 80 km/h.
Liebherr 22 HM technical data
Jib length 25,0 / 27,0m
Max. capacity 800 / 700 kg
Hoisting height 19,0 m
Hoisting height (20° jib) 26,2 m
Hoisting height (45° jib) 33,4 m
Transport length 13,95 m
Transport width 2,5 m
Transport height 3,6 m (3,1 m)
Radius 2,4 m