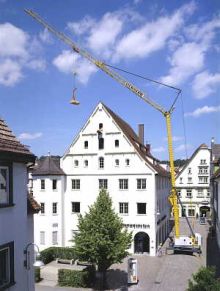 NEW FAST – ERECTING MOBILE CRANE 22HM
Hydraulics make handling of the mobile fast-erecting cranes of the HM series simple. With the hydraulic erecting kinematics, erecting of the HM cranes is very easy, fast and safe and can be carried out by a single person.
HM cranes feature the practical 160° obstruction-avoidance angle and the 20° raised-jib working angle. The 22 HM also has a 40° super-raised working angle. The HM series offers the advantages of the H crane system and has integrated transport axles for maximum mobility up to 80 km/h.
Technical data:
Max. hook height 19 m
Max. lifting capacity 2.000 t
Max. radius 27 m