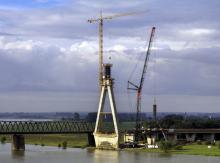 Liebherr cranes used in construction of a 130-metre high pylon
Two different types of Liebherr crane were recently used in the construction of a 130-metre pylon for the new Rhine Bridge in Wesel. In the final stage of erecting the pylon, the stationary 280 EC-H 16 Litronic tower crane was supported in the lifting work by an LG 1750 lattice-tower mobile crane.
A Liebherr 280 EC-H 16 Litronic tower crane providing a maximum working radius of 70m was erected for the construction of the pylon. The tower crane, which comprises the 500 HC tower system mounted on foundation anchor bolts, reaches a maximum under-hook height of 142.4m. Due to the dimensioning of the 500 HC tower system, this huge under-hook height can be achieved with only one anchorage on the pylon. With a maximum load capacity of 3,100kg at jib end, the tower crane demonstrated a great capacity for handling materials, even when lifting the heaviest formwork units and during the concreting work.
As construction on the slip-formed reinforced-concrete pier progressed, the 280 EC-H 16 Litronic first of all rose to a height of 90 metres. Then the Liebherr LG 1750-type lattice-tower mobile crane placed six enormous steel ingots, each 15-metres high and weighing 75t, on top. This increased the height of the pylon by a further 45m.