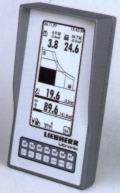 Technic Liebherr solution
Crane travel system
Fast-erecting cranes ranging from 34 tm can be equipped with devices for rail travel. Climbing cranes (see the picture) have a crane travel together with a gear drive in a compact design (angular gearbox, electromotor, brake, and hydraulic clutch). Travel wheels are hardened. This drive enables a smooth start, acceleration, and deceleration.
Slewing gear system
The K cranes dispose of the EDC slewing gear that provides smoothly adjustable speed, electronic wind loading regulation and automatic load-swing dumping.
The slewing gear drive with top slewing (see the picture) have a slip ring electromotor, hydraulic clutch, and, according to the size, slewing moment limiter, and wind loading regulation devices. Loads can be transported smoothly, precisely, and without load swinging.
System of a load lifting drive
Fast-erecting cranes have a two-drum winch with a threefold pole-reversible electromotor. The cranes ranging from 34 tm can be as desired supplied with a frequency converter or from 45 tm with a SPS control and frequency converter. Climbing cranes lift loads on a double-rope suspension.
According to the size, there are at disposal following devices: a two-speed lift drive with a Litronic frequency converter for smooth speeds (see the picture), as well as lift drives with two-, three-, or four-speed electromagnetic transmissions.
Crab travel drive system
The crab travel drive system of fast-erecting cranes offers two speeds of a crab travel. The biggest K crane and EC cranes are fitted with three speeds. Various K cranes are according to the wish also equipped with frequency converters. The 45 K and 71 K cranes are as standard fitted with converters. The crab travel drive of climbing cranes from 112 tm is equipped with frequency converter, which ensures smooth adjustment of crab travel speed.
Litronic - crane control system
The crane control system of the EC, EC-B, EC-H, HC, HC-L build series is highly progressive. It is composed of several functional electronic parts in the principle of the Liebherr modular system.
This system consists of modular components, optionally of software packages:
Electronic monitoring system
Loading moment limiting electronic system
Working range limiting electronic system
Anti-collision electronic system
Machine records electronic system
Machine data screening system
Teleprocessing system
SPS control or contactor control
Fast-erecting 45 K and 56 K cranes can be according to the wish equipped with a SPS control. The 71 K crane disposes of a ready-made programmable control.
All of the Litronic cranes dispose of a ready-made SPS control. The EC-B cranes can be fitted with a SPS control according to the customer's wish. The programmable control of top-slewing gear cranes is provided as a decentralized safely operated SPS control.